Flooring, Fabric, Leather & Foam
There are no limits to your imagination.
ACM's world of fabric presents a whole new level of possibilities. Our rich and refined collection of different textiles with an extensive assembly of eye-catching designs, patterns and colours will meet the most ambitious customer's expectation.
Below you can find some of our bespoke fabric materials.
We offer suitable fabric materials according to the specific requirements of the different aviation parts. Whether the fabric is for seat covers, wall lining, curtains, divans, head restraints or other interior components, we make sure our fabric materials are captivating with a very high quality.
Wool - supple and soft material that comes in a variety of colors.
Wool blend provides a high degree of comfort and guarantees a special seating experience. ACM can provide different woll blend compositions that will serve different requirements due to their textile constructions. This material absorbs moisture and return it to the air and is popular for its long service life.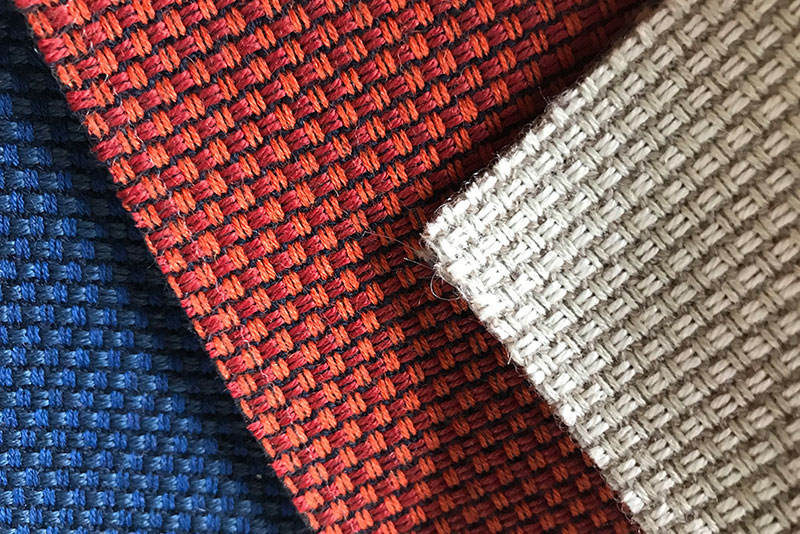 PES Trivera CS - this material is characterised by its stability, flexibility and long service life.
This highly wear-resistant and stabil textile is a man-made fibre that ticks all the boxes. It is very easy to maintain and the design options and colour choices are endless. Customers also choose this materials on the basis of price and durability.
Sheepscin - luxurious seating comfort with notable benefits.
Sheep skin is about the most comfortable and easy to wash upolstry.
This material is the best choice for pilot seats due to the temperature extremes in the cockpits. The wool breathes well and regulates temperature.
It keeps the pilot consistently comfortable, dry and less fatigued.